4 Simple Tricks Your Horse Can Learn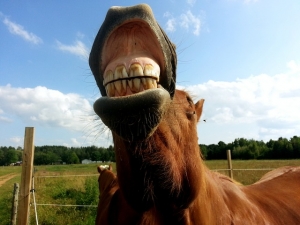 Having fun with horses isn't always about jumping on their backs and riding. Groundwork and building trust and a bond with your horse are important too. For something different, why not teach your horse a few simple party tricks? All you need is positive reinforcement, rewards, and patience! Here are a few to get you started.
Smile:
Get a treat your horse likes, and hold it over its upper lip. By moving the treat up and down, your horse will move its lip to try and get the treat. When your horse does this, make sure you reward them by giving them the treat. Repeat step one, and gradually ask the horse to lift its lip higher before giving them the reward. Once they have gotten that far, start adding a spoken command and a hand movement. Saying "smile" and lifting a finger is an example of how to do this. If you do this every time your horse lifts its lip, they will eventually associate that word with the action.
Back-Up:
This is a very common trick that is usually taught to a horse for ground manners and respecting people's space. It can be taken further and can be taught while you are actually riding the horse at the time. The key to "back up" is your horse walking backward when you say "back" or "back up", and move your hand in a waving motion.
When starting, gently 'push' your horse backward. As you are doing this, say "back" and moving your hand or finger in a motion of your choice. Reward your horse every time it does so. Once that step is established, repeat and then start using less and less pressure on the horse, always rewarding them when they do so. When your horse has recognized this, stand slightly offside from the front of your horse and say "Back" while using your chosen gesture. Your horse should back away. Stay at step one/two as long as your horse needs to understand. At some point, if you choose, your horse will also back, while you are sitting on it.
Lift Foreleg:
Gently lift, or touch your horse's leg and say "lift". If they make any movement at all, then reward them. Keep repeating the first step, once you have done this several times and your horse has responded, lift your leg simultaneously. Reward and repeat. Once your horse has understood, it should lift it's leg when you lift yours and say "lift". You can also keep touching your horse's leg. When your horse has figured out the trick, it should be able to perform the leg lift while you are standing on the ground and in the saddle.
Counting:
Lay a towel or a tarp in front of your horse, and lead them to it. Most horses will try to stomp or paw at it to test if it's safe to step on. Immediately reward them if they do so. To progress, walk to the tarp, say 'count' and touch their leg. When they start counting, immediately praise and give your horse a treat. Repeat a few times. In between, make sure you lead your horse away from the tarp. Following a few training sessions, you should be able to leave the object and just use a visual cue and voice to make them count.
In conclusion: It is all about positive encouragement, patience, and no punishment. If you make it fun and stress-free for your horse to learn these tricks, they are more likely to catch on to other tricks in the future!
Here is our facebook for more information and updates. Make sure you visit and like our page.
https://www.bangforyourbuckhorsegear.com.au/wp-content/uploads/2019/03/horse-1018835_640.jpg
480
640
BFYB
https://www.bangforyourbuckhorsegear.com.au/wp-content/uploads/2018/07/bfyg-logo-min_300x300.png
BFYB
2019-03-22 12:14:09
2019-04-01 13:23:44
4 Simple Tricks Your Horse Can Learn