Food For Thought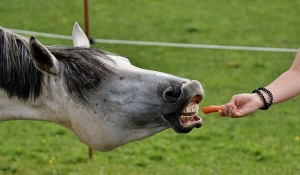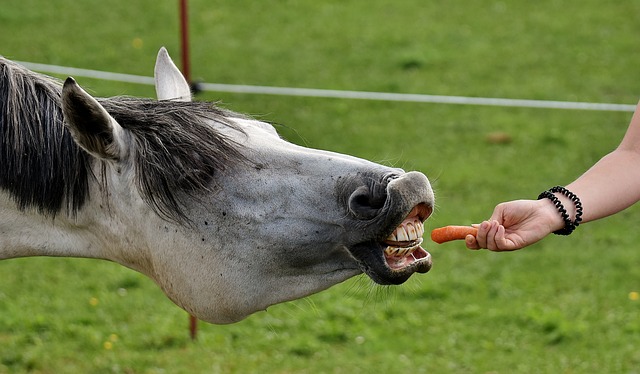 Christmas Day is over for another year! Who else thinks that they ate far too much of the wrong foods?! <raises hand> There's a chance you may have given your pets the leftovers of your Christmas feasts, which in some cases may not be the best thing. We know that there are foods that dogs are unable to digest, such as chocolate, grapes, and onions. But did you know there are some fruits and vegetables that you shouldn't give your horse to munch on?
Fruit & Veg No-no's
Of the fruits and vegetables listed below, a few can be fed in small quantities which have been noted below. The rest of the list can cause a wide range of illnesses including anaemia, colic, toxicosis, seizures,  choking and gas issues. If in doubt, always check with your vet if you aren't sure or your horse already has digestive issues.
Garlic, onions, cabbage, cauliflower & broccoli in large quantities
Potatoes
Tomatoes
Chocolate
Stone fruits without the seed removed
Avocado
Bread products
Dairy products (all horses are lactose intolerant! Fun fact!)
Now that we've listed the things you can't feed a horse, here is the list of things that you can feed them! Just keep in mind that these should only be fed occasionally and not be their main source of food. Any of these "safe" foods fed in frequent, excess quantities can have side effects for your horse.
Safe Foods (not primary source)
Berries (most varieties including strawberries, blueberries, blackberries, cranberries etc)
Apples (without the core…the seeds can be toxic)
Bananas
Licorice
Carrots
Grapes
Sunflower seeds
Pineapples
Watermelon
Apricots & nectarines without the seeds
We hope this has given you some insights on fresh, fun treats you can give your horse occasionally, and which ones to avoid completely. Another way to treat your horse this Christmas season is to get them one of our flash new horse rugs to help keep them clean and cool. We have a massive sale currently on a range f horse rugs in store, so why not check it out and nab yourself a bargain? By saving money now, you can buy more treats for them later!
https://www.bangforyourbuckhorsegear.com.au/wp-content/uploads/2018/12/mold-2574251_640.jpg
374
640
BFYB
https://www.bangforyourbuckhorsegear.com.au/wp-content/uploads/2018/07/bfyg-logo-min_300x300.png
BFYB
2018-12-27 14:48:42
2018-12-27 14:48:42
Food For Thought