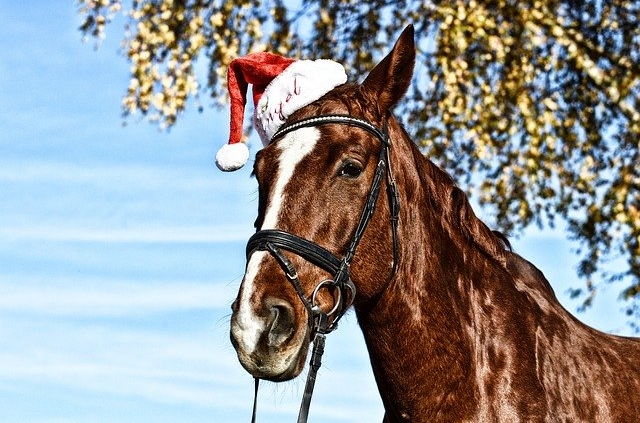 Horse Gift Ideas For Christmas
When it comes to horse gift ideas, horse people are easy to buy presents for. Where to begin? There are so many options!
Male or female? A horse owner or a horse lover? English or Western riding? Pay attention to that. It's important.
Some small home decor horse gift ideas can be:
Silk scarf with a horsey motif
Framed pencil horse drawing, or charcoal,
Horse earrings small and silver?
Silver bit bracelet or leather cuff with a bit motif.
Desk ornament,
horseshoe ornament,
bronze horse figurine – although do pay attention to the quality of how the horse is formed.
For larger horse gift ideas:
A nice halter is always a good choice. The size is forgiving, either foal/pony, avg horse or large/draft horse. Halters come in cheerful colours, some with a little bling. All breeds and disciplines use halters. They also need to be replaced every couple of years, so they are usually needed.
Riding gloves are another practical option that needs replacing every couple of years.
Horse treats are also fun, just be aware of the ingredients the treats are made of and are horse friendly. This also applies if you make them yourself. Brushes are generic, but maybe a bit too utilitarian to be for a gift unless it is a pretty set or an item not usually used. Nicely scented horse shampoo or show horse shampoo if they show regularly. You could make a little horsey spa package with a sponge, a curry comb and nice shampoo.
If you know what type of riding your horse person does, then a saddlecloth might be nice. For schooling or trail riding, any colour or trim is fine. You need to know the style of riding and size, so this one is a bit more complicated.
If they don't already have a stable/paddock plate with their horse's name on it, that's a thought.
Most horse people are particular about their gear (gloves have to fit and have the right feel). About the only piece of clothing that would work if they wear tall boots are socks. I know that sounds boring, but since they are covered up by the boots, these come in all sorts of fun colours and patterns. Also, sock size is forgiving.
If you know the size of their horse, why not take advantage of a horse rug sale and buy them a new rug? It's a larger purchase they might be holding off on buying, so you will be coming to the rescue!
When all else fails, a gift certificate to their favourite tack shop is always nice.
https://www.bangforyourbuckhorsegear.com.au/wp-content/uploads/2019/12/horse-3665213_640.jpg
425
640
BFYB
https://www.bangforyourbuckhorsegear.com.au/wp-content/uploads/2018/07/bfyg-logo-min_300x300.png
BFYB
2019-12-05 11:47:31
2019-12-12 12:10:43
Horse Gift Ideas For Christmas