Keep Your Horse Safe In Thunderstorms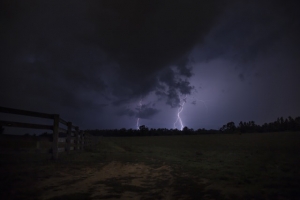 This time of year is renowned for producing storms, cyclones, and flash flooding. In Queensland especially, there can be multiple storms for days in a row. In this area especially, paddocks flooding, trees falling and other property damage aren't unheard of. This is why every attempt should be made to keep your horse safe in thunderstorms and other weather events. Things like checking trees for loose branches, supplying undercover shelter from wind and rain, and making sure fences are in good order are essential and part of basic horse management.
If you have horses or livestock in general, it is very important to have a plan if the weather gets extreme. The Australian Veterinary Association has a handy PDF on what to do in storms, floods or cyclones. You can find the link here. It covers important topics such as:
Why you need a disaster plan
What you should have in a fully-stocked first aid kit
Essential other items in a kit that you can grab and go including feed, halters, lead ropes, identification etc
Important phone numbers for your vet, the SES etc
plus information on what to do during and in the aftermath of an emergency weather event
The team at Bang For Your Buck Horsegear hopes you all stay safe this storm season. If you have any questions or queries about protective rugs to keep your horse dry during the heavy rain spells, don't hesitate to contact us or find out more about what horse rugs we have available.
https://www.bangforyourbuckhorsegear.com.au/wp-content/uploads/2018/11/pexels-photo-167755.jpeg
426
640
BFYB
https://www.bangforyourbuckhorsegear.com.au/wp-content/uploads/2018/07/bfyg-logo-min_300x300.png
BFYB
2018-11-28 10:04:32
2018-12-20 11:57:58
Keep Your Horse Safe In Thunderstorms