Preventable Horse Diseases (and how to avoid them)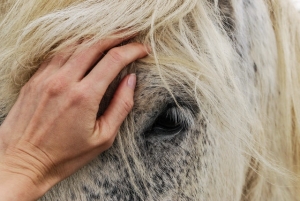 We all love our horses dearly. Like most pets, vet bills can be very costly when your horse gets injured or ill from a preventable horse disease. The best ways to minimise this is to make sure they are vaccinated regularly. We have listed the 4 most common preventable horse diseases below. It lists what they do and why you need to prevent them!
4 of The Most Common Horse Diseases/Conditions
Tetanus – the first preventable horse disease on the list is Tetanus. "Clostridium tetani" is the technical name for the organism that causes this disease. Unfortunately, it can be anywhere but is not contagious. It lives in soil and manure and most commonly enters the horse's body through wounds on the skin and hooves. If your horse shows any of the signs, it is vital to get veterinary help. Because of the horse's inability to eat, drink and even breathe as the disease progresses, delaying treatment is almost guaranteed to be fatal. Signs of tetanus include severe muscle stiffness, difficulty chewing, the third eyelid covering the eye in spasms, tail held straight out and a stretched out, stiff posture.
Strangles –  A bacterial respiratory disease caused by "Streptococcus equi". It is highly contagious, because of this affected horses must be isolated for 6-8 weeks. Symptoms include green, yellow or white nasal discharge, high temperature and difficulty swallowing. Coughing and enlarged lymph nodes around the throat can affect their breathing. Due to this, it is vital to call your vet for treatment. Symptoms can last for weeks.
Hendra – Hendra is a viral disease spread by fruit bats. Horses get it by eating food contaminated by these fruit bats who are carriers. The main difference with this disease is that it can spread to humans. There is no treatment and is fatal for horses. Symptoms include fever, fast breathing with difficulty, mobility issues, increased heart rate, and discomfort while resting. There can also be nasal discharge and involuntary muscle twitching. Humans can show similar flu-like symptoms. If they have been in contact with a horse with similar symptoms, they must be taken for medical treatment immediately.
Internal Parasites – The 2 main types of internal parasites are worms, and bots (fly eggs). Symptoms for affected horses can vary. Some show no signs at all, others will lose condition rapidly. The most common ones are the loss of, or increased appetite, poor growth in young horses, weight loss, anaemia, and tail rubbing. The best way to prevent a heavy worm load is to use a broad spectrum worming paste and have your vet test the manure for an egg count.
In Summary
We want to do the right thing by our horses and keep them healthy. By keeping their vaccinations and worming up-to-date, as a result, you are helping stop the spread of these diseases. It is important to be informed because it is not just your horse who could be affected. Thank you for reading this post, and that it helps you in the future.
https://www.bangforyourbuckhorsegear.com.au/wp-content/uploads/2018/12/pexels-photo-614521.jpeg
428
640
BFYB
https://www.bangforyourbuckhorsegear.com.au/wp-content/uploads/2018/07/bfyg-logo-min_300x300.png
BFYB
2018-12-12 13:30:25
2018-12-12 13:30:25
Preventable Horse Diseases