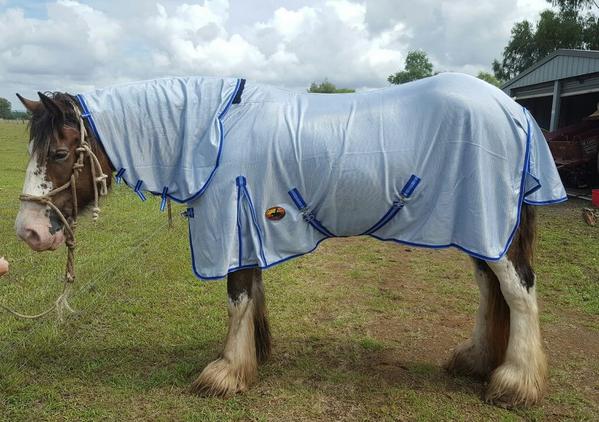 Summer Horse Rug Care
Summer horse rug care is important. Being out all day in the sun can contribute to wear and tear. Your horse will always find some way to get dirt and mud on their horse rug. This is especially true when there is a bit of rain around. You can guarantee if they can find a patch of mud, they will roll in it! In order to keep the rug in good condition, Bang For Your Buck Horsegear are here. Below are some useful tips on the best methods for summer horse rug care.
There are a few options available for summer horse rug care.
Commercial horse rug washing services can be a great option, particularly if you have a lot of rugs that need cleaning. Companies will advertise in horse magazines or social media groups, or you can do a search on the internet for local services.
Laundromats also provide a cleaning service but you will need to check if horse rugs are permitted.
If cost is an issue, there are a number of options for you to clean horse rugs at home.
Rugs can be washed in a domestic washing machine if it is big enough. You can use this option for mesh, cotton and poly cotton horse rugs, and polar fleece rugs. Always use a gentle cycle and only warm water and mild detergents should be used. Make sure it is rinsed thoroughly and take care with the spin cycle.
Synthetic Waterproof Rugs
For synthetic waterproof rugs, a washing machine is not recommended. It has the potential to shorten the life of the waterproof treatment on the rug.
The best option is to hand wash thse types of horse rugs. Use warm water with a mild detergent. The rug can first be hung up on a line and mud and other dirt hosed off and then finish with hand washing.
Hang the rug on a line and use a pressure washer to blast dirt off. Some pressure washers come with an attachment to apply a detergent or you can do this by hand and then finish with a blast to remove the dirt. Finish off with extra attention to stubborn areas. A wide spray should be used at a distance as a concentrated spray close to the material will damage the waterproof lining.
Horse rugs should be hung up over a line or fence to dry out completely. Once fully dired out, fold up and store until needed. Folding and storing a damp rug will result in a mouldy and fabric degradation when you go to use it next. You need to allow a few hours in full sun at least.
By following these summer horse rug care steps, you will extend the life of your horse rug.
https://www.bangforyourbuckhorsegear.com.au/wp-content/uploads/2018/08/about-us-gal4-min_600x600.jpg
422
599
BFYB
https://www.bangforyourbuckhorsegear.com.au/wp-content/uploads/2018/07/bfyg-logo-min_300x300.png
BFYB
2019-09-19 09:35:13
2019-09-19 09:35:13
Summer Horse Rug Care