Protect Your Horse From Flies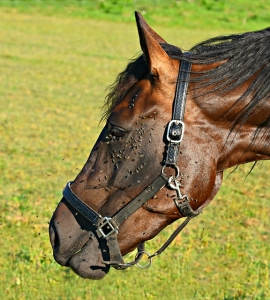 How CAN you protect your horse from flies? It's that time of year again. The warm weather and wet season bring an influx of the bane of a horse's existence! For whatever reason, flies and mosquitos seem particularly attracted to a horse's legs and face. They can cause anxiety and fidgeting in horses on the ground and while being ridden, and in some cases cause illness and injury through blood loss and itching.
Today we will outline some steps you can take to minimize flies, mosquitoes and other biting insects around your paddock and stable, and causing misery to your horse.
Fly Prevention Tips
Clear Away Manure – flies LOVE horse poo! One of the best ways you can help discourage flies is to regularly clear out paddocks and stables of manure. It is also a great idea to have your manure pile as far away as practically possible from where your horse spends most of its time.
Put On A Mesh Horse Rug – putting a light mesh horse rug on your horse is a great way to protect them just about everywhere except their legs! While some might think that horses would get too hot with a rug on, the fabrics created today can actually reflect heat, keeping them cooler. The added protection from biting insects is also a plus! You can find a wide range of summer rugs on our site HERE.
Repellents – applying fly repellant regularly to your horses' legs will provide temporary relief. There are many varieties to choose from, with varying prices. Rotating different types of repellents will help you find the one most effective for your situation.
 Keep Water Fresh & Aerated – ensuring your horse has plenty of clean, fresh water is a given. It should be cleaned out and/or topped up each day. Make sure any empty containers that get filled with water don't sit for too long and go stagnant. This is the ideal breeding ground for insects. By removing these, you're giving the insects less opportunity to breed.
Use A Flyveil – if flies are bad while you're out riding, consider putting a fly hood or veil on your horse's head to give them relief. If your horse has never had one on before, then proceed with caution and acclimatise them to one. It could make training and trail riding a much nicer experience for both of you!
In Summary
Flies and mosquitoes can make our lives a misery, but at the same time, they can provide a valuable service to nature. We hope these tips have helped give you ideas on how to protect your horse from flies this summer. If you ever have any questions about our range of horse rugs, don't hesitate to contact us.
https://www.bangforyourbuckhorsegear.com.au/wp-content/uploads/2018/11/horse-3562871_640.jpg
640
576
BFYB
https://www.bangforyourbuckhorsegear.com.au/wp-content/uploads/2018/07/bfyg-logo-min_300x300.png
BFYB
2018-11-06 12:48:41
2018-12-20 11:55:41
Protect Your Horse From Flies